Copyright 2007 Yoursigns Ltd.. All Rights Reserved.
All house signs made by our company are made from durable reconstituted slate and have high-tec reflective text and numbers which are heat laminated flush to the plaque surface and are not engraved or raised in relief.
Yoursigns Ltd., 20 College Close Industrial Estate, Sandown, Isle of Wight, PO36 8EB, United Kingdom Telephone: 0845 230 1290
Our New World Classic Oval House Sign is made to look like traditional cast iron plaque, but is actually made from reconstituted slate which is much tougher than normal slate and so will withstand extreme weather conditions without rusting or pitting. Suitable for large house numbers, Address markers and House names with house numbers.
For House Names, Numbers, Addresses
White reflective numbers
Six extra optional base colours
Optional gold painted beaded rims
Choice of several fonts
Horizontal or vertical positioning
7 Year Worldwide Guarantee
---
---


All house signs in our classic oval range have raised beaded rimmed edges and white reflective lettering & numbers. These house plaques are made to read from one side only and standard signs have a hard wearing black enamel paint background.
A choice of six other colour options with or without gold painted rims are also available for a small additional charge.
Free layout visual of your house sign will be shown on our House Signs Visuals pages for your final approval before it is actually made.



New World Classic Oval House Sign - dimensions 14.5 inches by 10 inches - white reflective text and numbers giving visibility at night!


New World Classic Oval House Plaque
Dimensions: 368 mm by 254 mm
14.5 inches by 10 inches
Black is the standard colour - There are six other different colour ways, all offered with or without gold rims. Solid colours are charged at £5.50 extra, mottled colours £7.50 extra and a gold painted rim costs £8.00 extra

Shipping per item:
UK - £6.75
EU Countries - £11.25
USA & Canada - £17.25
All other Countries - £19.55
Actual size of the numbers and text vary depending on the amount of text and numbers to fit on the sign - we make the text and numbers fit so they look visually correct within the dimensions of the plaque. The style of font chosen can also determine the overall letter height and size of numbers.
---

To order your house sign online, simply click on the 'Buy Now' cart button at the top of this page. You will be presented with an order form. Please select any options in the options boxes and fill in your House Numbers & Text for the house sign. When you have filled in all relevant details about the sign you are ordering, click the 'Buy The Sign' button at the bottom of the page and you will be presented with the secure SSL incrypted pages of the shopping cart. - A padlock showing in your browser's bottom bar will show that the page is secure.
You will be asked for your address and telephone details and shipping details if different. If you are paying by debit/credit card, please make sure you use the address and card details exactly as your card company has on file for you. Enter your card number as one long number without the gaps.
There are three ways you can pay for your house sign, you can pay by credit/debit card, by Cheque in the post or by PayPal. Once your order is finalised you will be transported to the 'Thank You' page where you will be give details on how your order will be processed. - You will also get a confirmation email at the email address you have given in the shopping cart.
---

All our signs are available with several different fonts shown in our FONT LIST to give a different look to match the character of your home. You can choose from any of 5 standard fonts for the normal price . We also offer 'premium' priced fonts that cost slighty more because they take longer to make. If our font selection does not meet your requirements, you can choose to send us your own font as an email attatchment for an extra fee of £6 and we will use the font in the making of your House Sign.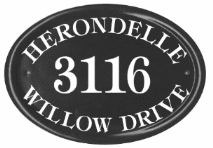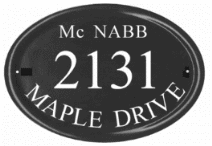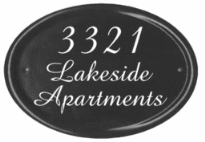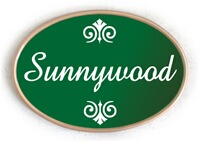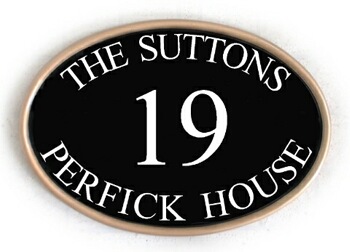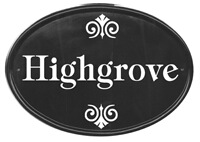 Choice of fixing holes position