Large Natural Rustic Oval House Sign - dimensions 13 inches by 9.5 inches - white reflective lettering for better visibility at night!


Large Natural Rustic Oval House Sign
Dimensions: 330 mm by 240 mm
13 inches by 9.5 inches

Shipping per item:
UK - £5.75
EU Countries - £8.75
USA & Canada - £14.25
All other Countries - £16.25
---
To order your house sign online, simply click on the 'Buy Now' cart button at the top of this page. You will be presented with an order form. Please select any options in the options boxes and fill in your House Numbers and/or Text for the house sign. When you have filled in all relevant details about the sign you are ordering, click the 'Calculate Price' button at the bottom of the page and you will be presented with the secure SSL encrypted pages of the shopping cart.
The cart will calculate the price for you - including any options and shipping to your own country and display it in GB Pounds, US Dollars and Euros. You can the decide to complete the order or delete the calculation and return to the order form to make any modifications.
You will have the option to pay for your house sign order in the following 4 ways. - by credit/debit card via our secure SSL encrypted gateway, by GBP Cheque in the post or by PayPal. You can also simply telephone us your order details if you prefer.
On finalising your order, you will be asked for your address and telephone details also shipping address if different. If you are paying by debit/credit card, please make sure you use the address and card details exactly as your card company has on file for you. Enter your card number as one long number without the gaps.
---

All our signs are available with several different fonts shown in our FONT LIST to give a different look to match the character of your home. You can choose from any of 5 standard fonts for the normal price . We also offer 'premium' priced fonts that cost slighty more because they take longer to make. If our font selection does not meet your requirements, you can choose to send us your own font as an email attatchment for an extra fee of £6 and we will use the font in the making of your House Sign.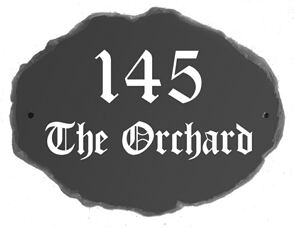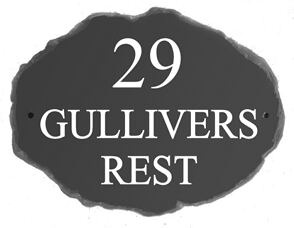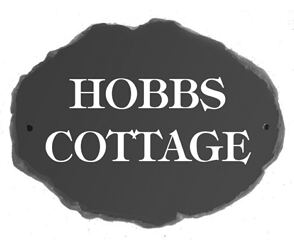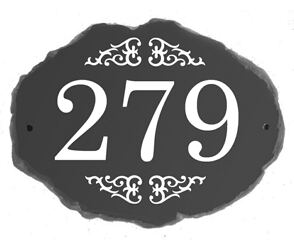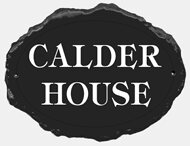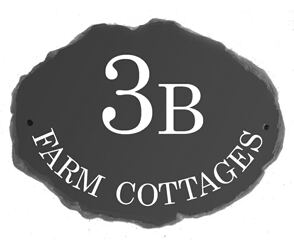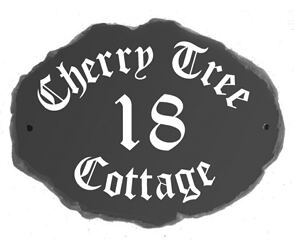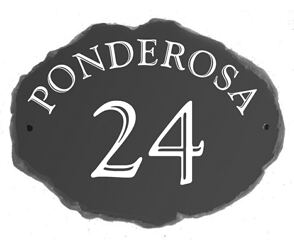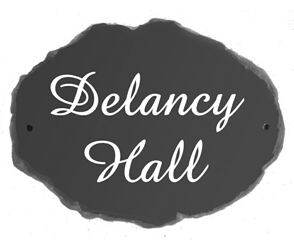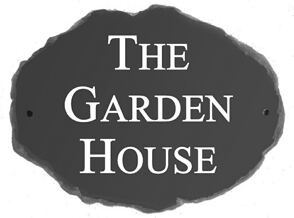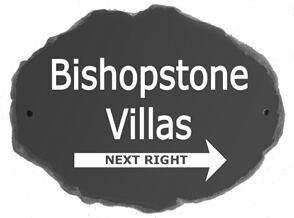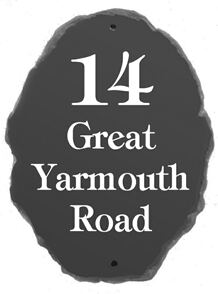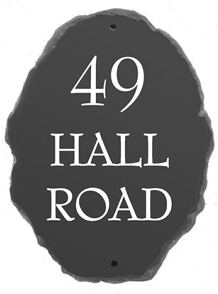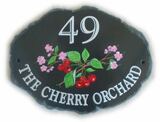 The actual size of the numbers and Lettering varies depending on the amount of text and numbers to fit on the sign - we make the text and numbers fit so they look visually correct within the dimensions of the plaque. The style of font chosen can also determine the overall letter height and size of numbers.
2 lines of streight Text - Old English Font
3 lines of streight Text - Times Roman font
3 lines of streight Text - Times Roman Special Caps Font
3 lines of Text - top and bottom arching- Old English Font
Top archingText - number below - Goudy Handtooled font
Bottom archingText - number above - Century Schoolbook font
2 line streight Text - Amazon Script font
2 line streight Text - Tiffany Bold font
House Number only - Century Schoolbook font
3 line streight Text with direction arrow - Verdana font
Vertical - 4 line text - Tiffany font
Vertical - 3 line text - Bernhart Modern font